The latest installment of this popular YouTube channel is a sequel, with a new protagonist and a ton of familiar faces.
YouTubers Life 2 is a new game that has been released for the PC. The game allows players to create their own YouTube channel and live a life as a Youtuber.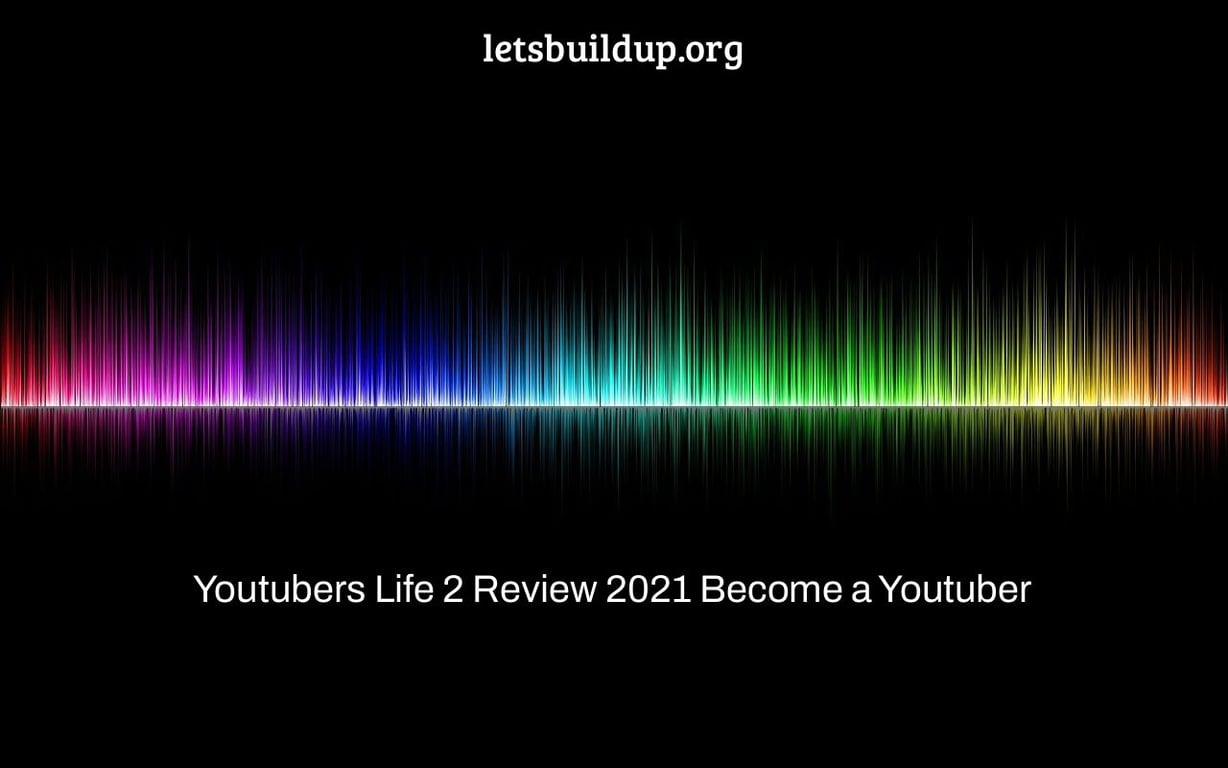 For a long time, Youtube has been an integral part of our everyday lives, whether it's for game reviews or sneak peeks of new releases, but now gamers can get a glimpse of life as a premium content producer.
Some individuals will immediately feel compelled to shun this game like the plague in order to avoid being linked with the Youtube culture, while others will be lured to it.
Character Customization for Youtubers in Life 2
Aside from the obvious parts of the game, such as creating YouTube videos, the game also has a Sims-like feel to it, with some life sim aspects of the game visible right away, such as the outstanding character modifications.
Players may make comprehensive modifications, pick the character's name, and, of course, choose the name of their Youtube channel, which took me as long as establishing a genuine Youtube channel.
So far, the game seems to be promising; there is lots of personalization, and I can create a YouTube channel that, unlike in real life, has a possibility of success.
Creating Life 2 content for YouTube
This is where the game falters a little; having not played the first game, I had no idea what to anticipate, but I must confess I was disappointed when I began making my first video.
You just select an activity, such as playing a game or recording a Vlog, and a sequence of events and styles to generate material, which seems to be quite restricted.
I was looking for so much more, like the possibility to use fake game footage if I were making a game video, or to add some facial responses or other customization touches to the films, but this isn't available in Youtubers Life 2.
Although you do receive additional choices as you advance through the game, such as the ability to add effects to your movies, which adds a degree of customisation, it just wasn't enough for me to enjoy the game.
Gameplay of Youtubers Life 2
As I previously said, the game also has certain life simulation elements, which are significantly more fun than the content generating portion.
You'll be able to buy more goods and upgrade your home as you start accumulating subscribers and earning money; some of the items will also be essential in your content career.
Players may also roam throughout NewTube city's open environment, which is a great addition, although it might become a bit monotonous and dull after a while.
The game has an energy system in which each video you make consumes energy that must be refilled by eating or sleeping, but it didn't take me long to become tired of it since making just one video consumes a lot of energy because playing games is so exhausting!
Summary of Youtubers Life 2
I'm not a huge fan of Youtubers or the culture that surrounds them, so maybe I'm prejudiced in that regard, but there's something about playing a game that centers on becoming famous online that just doesn't appeal to me.
That said, I recognize that it will appeal to certain people, but even so, the material is too sparse, the gameplay is too monotonous, and the whole game seems like a squandered opportunity.
In some ways, the game seems singularly focused; the developers intended to make a game about becoming popular, and that's all they got; nonetheless, even with the already sparse idea, it could have been developed further.
Review of Youtubers Life 2
Youtubers Life 2 is the name of the game.
After relocating to NewTube City, you have just one ambition: to become the best content producer in the world and to shake the Youtube globe with fresh daily trends and videos.
Unboxed Opinions
The Good
Unusual Idea
Customization is fantastic.
An in-depth examination of Youtube culture
The Negative (& Ugly)
It's monotonous and boring.
The production of content might be improved.
There are much too many loading screens.
Too much energy is used up too quickly.
5 5.3 2.625
Score from Unboxed Reviews
Despite all of the hoopla surrounding the Dallas Cowboys leading into this year's Thanksgiving Day special, they were once again unable to deliver, continuing their three-game Thanksgiving Day losing skid. After the game, the excessive amount of penalty flags thrown became a hot topic. Jerry Jones, the owner of the Dallas Cowboys, went a step farther in making excuses.
The controversial owner blamed the defeat on the Cowboys' ailments.
Jerry Jones doubles down on his excuses, blaming the Cowboys' defeat on injuries.
Tim Nwachukwu/Getty Images/Jerry Jones
The Cowboys were clearly short-handed heading into the Week 12 showdown, especially on the offensive side of the ball. Amari Cooper and CeeDee Lamb, both wide receivers, were ruled out, while Ezekiel Elliott, the running back, was trying to play despite an injury.
The quarterback, Dak Prescott, didn't appear to be affected by the absence of outstanding targets. Despite this, he ended the game with 375 throwing yards and two touchdowns. The receivers on the receiving end of his throws, on the other hand, were all fresh faces. For instance, Noah Brown and Cedrick Wilson combined for 13 receptions and 157 receiving yards. Many Cowboys supporters weren't anticipating that result coming into the afternoon.
Despite Prescott's ability to make things work with his backup pass-catchers, Jerry Jones couldn't resist adding another explanation to his extensive list of previously stated excuses. Following his criticism of the officials, Jones went on to point out his team's lack of wide receivers.
"You have to think forward. Napoleon is as dead as yesterday. Jones said, "It's gone." "As a result, we must consider how we may improve." There are no clouds in the sky. When you look at the six games we have coming up, it's clear that the cavalry is on its way. Take a deep breath and remind yourself that this is the time of year when you're dealing with attrition. In most cases, you're dealing with a severely diminished workforce. We've arrived with new legs."
Jerry Jones has to quit apologizing.
Whether the Cowboys win or lose, Jones always has something to say. However, he needed to find a method to keep his mouth shut at this point.
On Thanksgiving, the Cowboys dropped a home game on national television. Nobody wants to hear about the Cowboys' woes and injuries. Injuries are something that every team has to cope with. The good teams figure out a method to get around them.
During the game, the Raiders, for example, were struggling with their own injury problems. With a knee injury, tight end Darren Waller had to exit the game early. The extent of Waller's injuries is presently unclear.
The Cowboys must regain their momentum.
Dak Prescott: I'm sure a few people are getting off the bandwagon, but that's good with us because we know what we're capable of. We know who we have on our squad. More significantly, we know the guys in that locker room… and we share their faith in one another.
November 26, 2021 — Charean Williams (@NFLCharean)
The Cowboys have lost three of their previous four games, quietly allowing someone to dethrone them from their NFC East throne. Both the Philadelphia Eagles and the Washington Redskins are on two-game winning streaks and are just a couple games behind Dallas.
If the Cowboys are serious about winning the NFC East and returning to the playoffs, they must bunker down and concentrate on winning rather than making excuses. Jerry Jones is at the helm of this.
Pro Football Reference provided all stats.
RELATED: Kyle Shanahan Just Delivered a Perplexing Trey Lance Update That Could Send the 49ers Down a Dreadful Road
Watch This Video-
The "youtubers life 2 mobile" is a game that has been released for the iOS and Android platforms. The game allows users to become a YouTuber and create their own YouTube channel.
Frequently Asked Questions
Is Youtubers life hard?
A: Yes it is very hard, but guess what? Im a Youtuber!
Is Youtubers Life 2 out?
A: Youtubers Life 2 is not out yet. It will be released in 2019 on September 12th, but it has already been announced that the game will release for free instead of a purchase price.
Is there multiplayer in Youtubers life?
A: Yes, there is multiplayer in Youtubes life.
Related Tags
youtubers life 2 guide
youtubers life 2 release date
youtubers life 2 free download
youtubers life 2 wiki
youtubers life 2 walkthrough